Screen Printing: What it Means and Its Advantages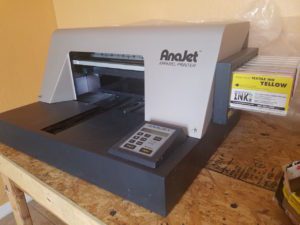 Screen printing is what most businesses across El Paso will use when they want to print different materials. Although there have been tremendous advancements in digital printing, the screen technique remains popular, and this is more so when it comes to cutting cost for bulk items. Despite its immense popularity, there are still many people out there who do not understand what it is all about and the advantages that a business or individual can get from choosing it over the other methods.
What Does Screen Printing Mean?
Just as the name suggest, screen printing involves transferring an image or pattern from a mesh screen to a substrate. It is among the oldest techniques of printing, and there is evidence to suggest that people have been practicing it for more than two centuries. Although in the past it was very restrictive with colors, the invention of special inks now makes it possible to print in any color that you want and on almost any material including plastic, glass, nylon and metal.
What are the Advantages of Screen Printing?
Whether you are printing a few T-shirts or a bulk batch of fabric for your business, you should always go for what gives you the most advantages. If you chose to go with screen printing, you should expect to get the following and many other benefits.
#1 Durability
The thickness and composition of the inks in screen printing mean that the designs will remain as they are for many years. Provided that you use the services of a professional El Paso, Texas screen printer you can be sure of getting designs that will withstand stress for a long time without any significant decline in quality.
#2 Cost-Effectiveness
When printing in bulk, it is way cheaper to use this method than other common ones like digital printing. When doing screen printing, you can use the same panels again and again because you will only need to add ink. And so this means that provided the design does not change the cost per item is cheaper than what you get from other methods when printing in bulk. Since most businesses are always printing in bulk, you can always be sure of saving some cash.
#3 Wide Range of Printing
You can use screen printing to create designs in a wide variety of materials, and this means that it will never restrict you. Whether you want to print some t-shirts or promotional products such as key holders, it is still very possible to do it with this method. Also, the quality of designs and the vivid colors that you get will not change regardless of the material.
#4 It is Fast
Screen fabrication is the only thing that will consume a significant amount of time when printing with this method. Once the screens are ready everything else is straightforward, and this means that you can put the designs on a lot of items fast. Also, it only takes a couple of seconds for the design to transfer to the material and the drying and curing are also fast.
Whether you plan to run a marketing campaign for your business or you just want to print a batch of t-shirts, screen printing will work well for you. All you need to do is to talk to an experienced professional in El Paso, Texas so that you can get an estimate for the particular printing job that you want.